Athens International Airport
Athens International Airport, the biggest international airport in Greece, handles more than 10,5Μ travellers per year thanks to 60 airlines and flights to 163 destination countries. Besides Hellenic Duty Free Shops and our mono brand fashion stores, you will be able to find restaurants, cafés and bars, exchange offices, children play area and all sorts of ground transportation options. Hellenic Duty Free Shops work together with Athens International Airport to ensure you have the most pleasent and seamless airport experience.
Click here to know more about the airport
Our stores at the airport
Consult more information about the available Duty Free stores in the Athens airport here. Buying tax free products has never been easier thanks to our stores at Athens International Airport Eleftherios Venizelos. Discover everything related to our stores in the different terminals of the airport in Greece's capital.
In the Departures inside the Schengen Area of the airport, Athens Duty Free offers you the opportunity to visit the Hellenic Duty Free Shop. Our store is open twenty-four hours a day so you can buy the best tax free products no matter what the time of your flight is. In the same zone, you can find clothing stores like Folli Follie, Michael Kors, and Victoria's Secret, among other stores.
If on the other hand, you wish to buy tax free watches or sunglasses in the All Users Area, you can enjoy stores from name brands like Swatch and Ray-Ban. You will find more Hellenic Duty Free Shop stores inside the Arrivals terminal and the satellite terminal of Athens International Airport Eleftherios Venizelos, where you can make all your last minute purchases.
Learn more about the opening hours, available products, and locations of our tax free stores at the Athens airport on this website. Don't miss out on the opportunity to shop for products from the most exclusive brands at the best price, save time, and money thanks to Duty Free. We hope to see you soon in our stores at the airport!

Hellenic Duty Free Shops
Location

Intra Schengen Departure Area

Shop Categories

Perfumes & Cosmetics Luxury (Jewerly, Watches & Sunglasses) Hellenic Gourmet Confectionery Electronics, Travel & Souvenir Toys Tobacco Goods Liquor

Email

info@dutyfreeshops.gr

Opening hours

24/7
---

All Greek to me  
Location

Intra Schengen Departure Area      

Shop Categories

Souvenir Hellenic Gourmet Local Fashion & Luxury   

Email

info@dutyfreeshops.gr

Opening hours

06:30-22:30
---

Michael Kors 
Location

Intra Schengen Departure Area 

Shop Categories

Mono-brand shop - Fashion & Luxury 

Phone Number

 +  30 2103532760

Email

info@dutyfreeshops.gr

Opening hours

06:00-22:00
---

Victoria's Secret  
Location

Intra Schengen Departure Area  

Shop Categories

Mono-brand shop - Fashion & Luxury  

Phone Number

 +  30 2103533016

Email

info@dutyfreeshops.gr

Opening hours

06:00-22:00
---

Max Mara   
Location

Intra Schengen Departure Area   

Shop Categories

Mono-brand shop - Fashion   

Phone Number

  +  30 2103532974

Email

info@dutyfreeshops.gr

Opening hours

06:00-22:00
---

Zeus & Dione  
Location

Intra Schengen Departure Area   

Shop Categories

Mono-brand shop - Fashion 

Phone Number

    +  30 2103533006

Email

info@dutyfreeshops.gr

Opening hours

06:00-22:00
---

Hugo Boss   
Location

Intra Schengen Departure Area   

Shop Categories

Mono-brand shop - Fashion  

Phone Number

  +  30 2103532640

Email

info@dutyfreeshops.gr

Opening hours

06:00-22:00
---

Armani    
Location

Intra Schengen Departure Area   

Shop Categories

Mono-brand shop - Fashion  

Phone Number

 +  30 2103532774

Email

info@dutyfreeshops.gr

Opening hours

06:00-22:00
---

Hellenic Duty Free Shops
Location

Intra Schengen Departure Area

Shop Categories

Luxury (Sunglasses)

Phone Number

 +  30 2103533026

Email

info@dutyfreeshops.gr

Opening hours

06:00-22:00
---

Korres
Location

Intra Schengen Departure Area   

Shop Categories

Mono-brand shop - Natural Cosmetics   

Phone Number

 +  30 2103532903

Email

info@dutyfreeshops.gr

Opening hours

05:00-22:30
---

Swatch & Swarovski
Location

Intra Schengen Departure Area

Shop Categories

Mono-brand shop -Luxury

Phone Number

 +  30 2103532468

Email

info@dutyfreeshops.gr

Opening hours

06:00-22:00
---

Hellenic Duty Free Shops - Last Minute I 
Location

Intra Schengen Departure Area   

Phone Number

  +  30 2103532991

Email

info@dutyfreeshops.gr

Opening hours

24/7
---

Hellenic Duty Free Shops - Last Minute II 
Location

Intra Schengen Departure Area   

Phone Number

   +  30 2103532802

Email

info@dutyfreeshops.gr

Opening hours

06:30-22:30
---

Hellenic Duty Free Shops - Last Minute III 
Location

Intra Schengen Departure Area   

Phone Number

   +  30 2103532876

Email

info@dutyfreeshops.gr

Opening hours

06:30-22:30
---

Hellenic Duty Free Shops
Location

Extra Schengen Departure Area

Shop Categories

Perfumes & Cosmetics Hellenic Gourmet Confectionery Electronics, Travel & Souvenir Toys Tobacco Goods Liquor

Phone Number

"P&C: + 30 2103532433 Confectionery, Liquor & Tobacco: + 30 2103532162"

Email

info@dutyfreeshops.gr

Opening hours

24/7
---

Timebox  
Location

Extra Schengen Departure Area    

Shop Categories

Luxury (Watches)  

Phone Number

  +  30 2103532438

Email

info@dutyfreeshops.gr

Opening hours

06:30-22:30
---

Master of Time 
Location

Extra Schengen Departure Area    

Shop Categories

Luxury (Watches & Montblanc) 

Phone Number

   +  30 2103532388

Email

info@dutyfreeshops.gr

Opening hours

06:30-22:30
---

Michael Kors 
Location

Extra Schengen Departure Area   

Shop Categories

Mono-brand shop - Fashion & Luxury   

Phone Number

   +  30 2103532929

Email

info@dutyfreeshops.gr

Opening hours

06:30-22:30
---

Polo Ralph Lauren 
Location

Extra Schengen Departure Area   

Shop Categories

Mono-brand shop - Fashion 

Phone Number

 +  30 2103532721

Email

info@dutyfreeshops.gr

Opening hours

06:30-22:30
---

Armani  
Location

Extra Schengen Departure Area   

Shop Categories

Mono-brand shop - Fashion 

Phone Number

 +  30 2103532360

Email

info@dutyfreeshops.gr

Opening hours

06:30-22:30
---

Salvatorre Ferragamo
Location

Extra Schengen Departure Area   

Shop Categories

Mono-brand shop - Fashion 

Phone Number

  +  30 2103532719

Email

info@dutyfreeshops.gr

Opening hours

06:30-22:30
---

Hugo Boss
Location

Extra Schengen Departure Area   

Shop Categories

Mono-brand shop - Fashion 

Phone Number

 +  30 2103532385

Email

info@dutyfreeshops.gr

Opening hours

06:30-22:30
---

Zeus & Dione 
Location

Extra Schengen Departure Area   

Shop Categories

Mono-brand shop - Fashion 

Phone Number

 +  30 2103532235

Email

info@dutyfreeshops.gr

Opening hours

06:30-22:30
---

Hellenic Duty Free Shops 
Location

Extra Schengen Departure Area   

Shop Categories

Luxury (Sunglasses) 

Phone Number

  +  30 2103532247

Email

info@dutyfreeshops.gr

Opening hours

06:30-22:30
---

Korres 
Location

Extra Schengen Departure Area   

Shop Categories

Mono-brand shop - Natural Cosmetics 

Phone Number

 +  30 2103532297

Email

info@dutyfreeshops.gr

Opening hours

24/7
---

Hellenic Duty Free Shops Last Minute 
Location

Extra Schengen Departure Area   

Phone Number

 +  30 2103532110

Email

info@dutyfreeshops.gr

Opening hours

24/7
---

All Greek to me  
Location

Extra Schengen Departure Area   

Shop Categories

"Souvenir Hellenic Gourmet Local Fashion & Luxury" 

Phone Number

 +  30 2103532110

Email

info@dutyfreeshops.gr

Opening hours

06:30-22:30
---

Hellenic Duty Free Shops
Location

All Users Area

Shop Categories

Luxury (Sunglasses)

Phone Number

 +  30 2103532348

Email

info@dutyfreeshops.gr

Opening hours

06:30-22:30
---

Victoria's Secret
Location

All Users Area

Shop Categories

Mono-brand shop - Fashion 

Phone Number

 +  30 2103532435

Email

info@dutyfreeshops.gr

Opening hours

06:30-22:30
---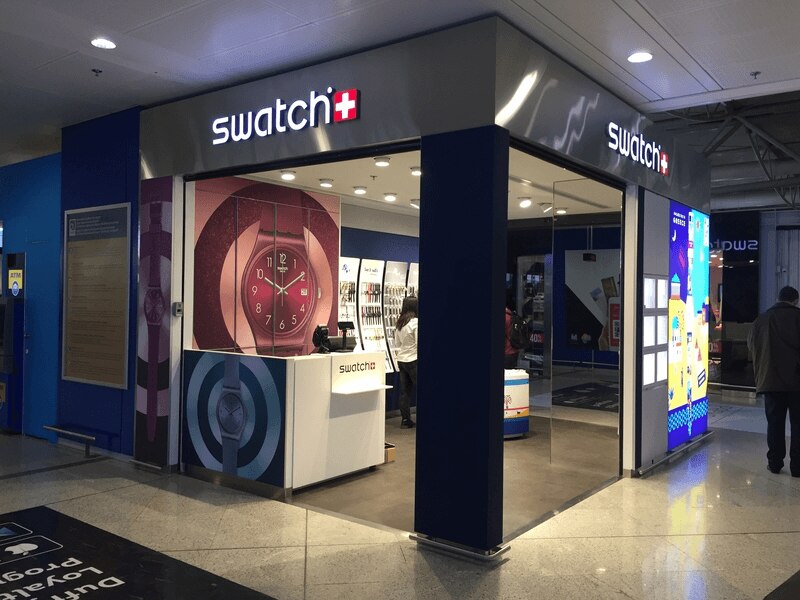 Swatch
Location

All Users Area

Shop Categories

Mono-brand shop - Luxury

Phone Number

 +  30 2103530302

Email

info@dutyfreeshops.gr

Opening hours

06:30-22:30
---

Terkenlis 
Location

All Users Area

Shop Categories

Mono-brand shop - Greek Patisserie  

Phone Number

  +  30 2103533072

Email

info@dutyfreeshops.gr

Opening hours

6:00-24:00
---

Hellenic Duty Free Shops I  
Location

Intra Schengen Arrival Area 

Phone Number

 +  30 2103533068

Email

info@dutyfreeshops.gr

Opening hours

06:30-22:30
---

Hellenic Duty Free Shops II  
Location

Intra Schengen Arrival Area 

Phone Number

 +  30 2103532413

Email

info@dutyfreeshops.gr

Opening hours

06:30-01:30
---

Hellenic Duty Free Shops
Location

Extra Schengen Arrival Area  

Phone Number

 +  30 2103532019

Email

info@dutyfreeshops.gr

Opening hours

06:30-01:30
---

Hellenic Duty Free Shops
Location

Satellite Terminal  

Shop Categories

"Perfumes & Cosmetics  Luxury (Sunglasses) Hellenic Gourmet Confectionery Electronics, Travel & Souvenir Toys Tobacco Goods Liquor"  

Phone Number

  +  30 2103535122

Email

info@dutyfreeshops.gr

Opening hours

24/7
---